"Innovation & Identity" Developing relationships between people and products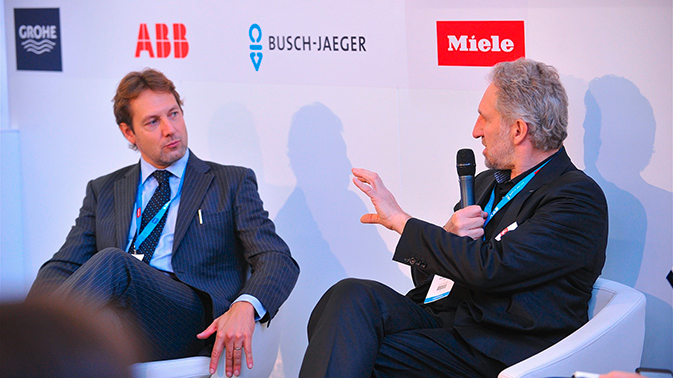 More than 1,800 architects and interior designers from more than 70 countries came to the World Architecture Festival in Amsterdam from 28 to 30 November to exchange views, learn from each other and find inspiration. About 650 international architectural projects were presented on site, of which 39 won awards. The extensive festival programme included evening events for networking as well as presentations held by top-class speakers and architects.
On the second day of the festival, Andreas Enslin, Head of the Miele Design Center, and Nicola Leonardi, publisher of the English magazine of architecture THE PLAN, held a panel discussion on "Innovation & Identity", moderated by Bob Sheil, Director of the Bartlett School of Architecture in London. One of the central questions raised by the panel: What is the significance of design in the context of innovation and identity? Here, according to Andreas Enslin, the product remains the most important brand ambassador.
Mr Enslin, the topic of the panel discussion at the World Architecture Festival was "Innovation & Identity". What role does design play in this context?
For Miele, the task of design is to translate the identity of the brand into elements that can be perceived and identified by the user. This includes attributes such as the typical design vocabulary or a typical operating concept. The challenge is to stay innovative, to keep developing, while simultaneously forming a unique character. So the aim is targeted, consistent development of all perceptible design elements over a period of time.
Not an easy task when we realise that the development of new products can take up to ten years. In view of this, how do you manage to think ahead in terms of future scenarios of use and customers' needs?
For innovative ideas, the right timing is vital. When changes are implemented too fast or too slowly, there is a risk of losing touch with the customers. The crucial point is that today we do not design appliances, but rather relationships between products and their users. So product design is a result of understanding what customers expect from a product. And these expectations are largely driven by changes in society – such as urbanization or digitization. Design thinking, research and workshops with customers as well as architects help us to detect future requirements and customer demands and make them take shape so to speak in design roadmaps for 2020 and 2030.
Has this process of innovation, or design and product development, changed significantly through the digital transformation of the last ten years?
It certainly has. One of the most important benefits is the enormous freedom in industrial design we have achieved in the course of the last decade through digitization. Especially the 3D CAD systems, with the possibility to transform data very quickly into images and then send these data, for instance, to a rapid prototyping machine, have multiplied the options for product design. Chronological principles have been largely dispensed with; there is no "linear approach" any more. Instead, the individual components are today developed parallel to each other. For example, I start many projects simultaneously without turning them over directly to the production process. This change in processes is a real benefit, but also a challenge, since it also involves a fundamental change in methodology and teamwork.
What effect has the digital development had on decision-making? Is this process more complex today than in the past?
Decision-making invariably also involves courage. We rarely know all of the data and facts, so a certain amount of risk always remains. In the past, developments simply took more time – in most cases we still had an opportunity to correct any wrong decisions along the way. This does not work anymore today, due to the intensive interplay of processes. When, for example, a direct data transfer takes place between a CAD data set and a production machine, nobody is there any more to stop the machine. Every fault is milled into steel without pardon and very efficiently. Nevertheless it is extremely important to delegate decision-making authority and to trust those involved in implementing the projects. But this also requires empowerment of every individual in a team. The result is a totally new style of cooperation.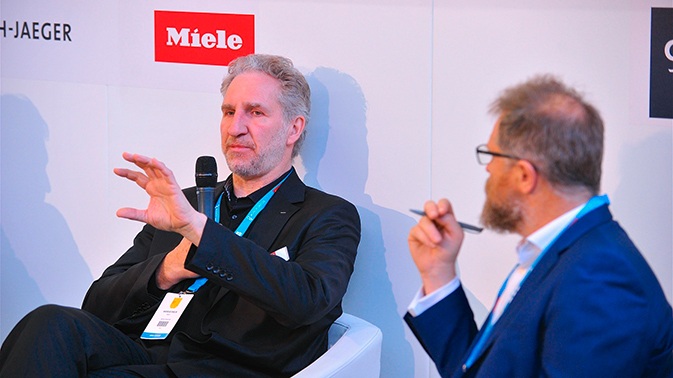 And what about product innovations? What role does digitalization play there?
Digitization often leads to challenges being tackled exclusively via a technological approach. But this is not enough to reach people and make them excited. To achieve this, I must know their needs. Can I offer them something to make their lives easier and strengthen them? Something that gives them pleasure? How can I get users to develop a strong loyalty to the product and to the brand? That is important – especially in the interest of saving resources, too. Unloved products are quickly discarded, even if they still function. I believe almost everyone has moments such as these. Who hasn't had any pieces of clothing in their wardrobe which they have never worn and therefore kept in the furthest corner at the back waiting for the next clearing out? And finally, such items are thrown away after all with a bad conscience, or at least given away. But when we get people to develop an emotional attachment to something, so that they say: This is the product I've been waiting for, I don't want to part with it any more – for example something like a favourite pullover – then this product will be treated with care. And of course it will be repaired, since I really want to keep it. In this sense, the emotional bond in a design has an enormous potential to encourage responsible use of our planet's resources.
Environmental protection and conservation of resources is also one of the important future topics which the World Architecture Festival has identified in the manifesto for its 10th anniversary. Are architecture and industrial design ultimately facing the same challenges?
The most urgent social issues are the same in both architecture and design. In our industry, this connection is clearly expressed by the term "household appliance". The house comes first, the appliance second. We start where architecture passes its responsibility to the residents and users, who move in and live there. What we need to achieve in industrial design is to establish a connection with architecture which enables us to bring the right products to the market, also in five to ten years' time, when people move into the new buildings. Good examples of success in this area are the smaller apartments in urban areas equipped with modern, open kitchens. Here, we had suitable products ready in time, such as our extractor hoods integrated into the hobs, a marvellous solution to provide quiet and home comfort. Achieving this kind of thing is becoming more and more of a challenge, since new projects, uses, rituals, products and values are developing more and more rapidly. After all, design is never routine.
Many thanks for the interview, Mr Enslin!!