"Change & Identity" Haliç Shipyards, Istanbul
Haliç Shipyards, Istanbul, Turkey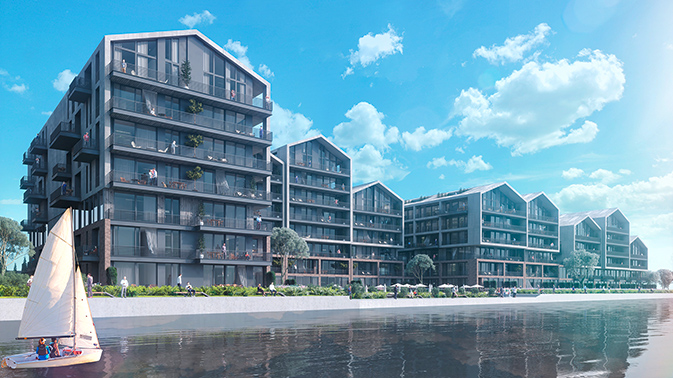 The Golden Horn between the Bosphorus and the Sea of Marmara lies at the very heart of the city of Istanbul and was once its most important port and home to a thriving shipbuilding industry. After a long period of neglect, it is now an up-and-coming part of the city once again. By converting and redeveloping the old Haliç Shipyards, Tabanlıoğlu Architects are helping to return this area to its former glory. This building gives a welcome boost to the area's resurgence as a lively and busy district. It is one of the 16 projects shortlisted for the 2018 World Architecture Festival in the "Commercial Mixed-Use Future Project" category supported by by Miele.
Throughout Istanbul's history, the Golden Horn has always served as a port and shipyard. In 1455, Sultan Mehmed II founded the Haliç Shipyards on the estuary's north shore, and it was continuously developed and expanded over the centuries. The land above the shipyards grew into a sought-after residential and recreational area, but this district has changed considerably in recent decades. From the 1960s onwards it fell into neglect and decline, and efforts to clean up and breathe new life into the area did not begin until the mid-1980s.
Up to now, in particular the industrial and shipyard sites on the coast opposite Istanbul's historic centre have been somewhat left to ruin, and these areas have come to present the city in a bad light. It was for this reason that the architects at Tabanlıoğlu plumped for a low-rise development broken up into small sections for the Haliç Shipyard site. The development, comprising marinas, apartment blocks, hotels, offices and leisure facilities, is in keeping with the area's historical outline.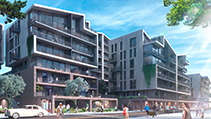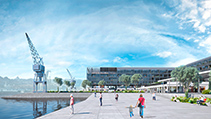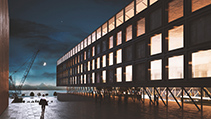 At the same time, the architects have significantly improved the district for new and existing residents, opening up areas previously inaccessible to the public and creating squares and walkways that grant them access to the coast. The project also brings the district closer to the water in an architectural sense.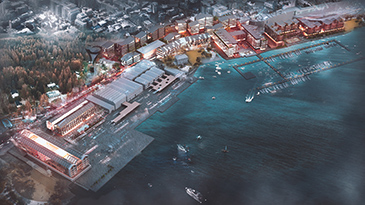 The new and redeveloped buildings are integrated into the existing urban fabric by imbibing the scattered, colourful jumble of the existing building stock, and thereby bringing a thoroughly modern interpretation to both.
By incorporating the existing buildings smoothly while simultaneously enhancing them, this project forges a bridge between past and future, and at the same time it develops its own identity, one that is readily adopted by the existing development.