"Anonymity & Identity" - Smart Plaza Kiew
Smart Plaza, Kiew, Ukraine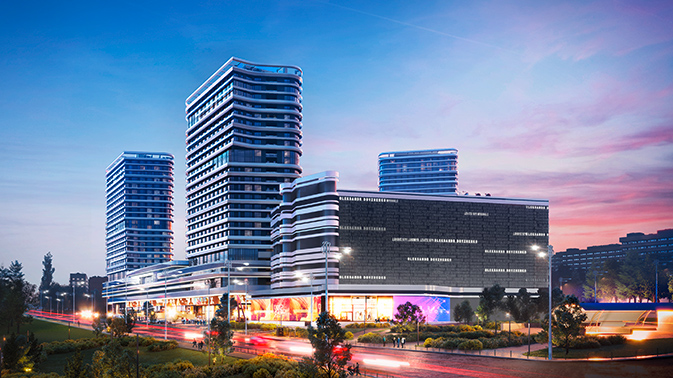 A residential complex with retail premises and leisure facilities designed to smarten up a neglected district of Kiev. The challenge here was that the site was already partially developed, with the construction plot being on top of an existing building. And yet, the architects at Archimatika have managed to create a building with a very distinctive presence. The result? This is the first Ukrainian building project ever to be shortlisted for the World Architecture Festival.
The brief for the new building was on the one hand to create an identity in itself, incorporating every function required for dwellings, leisure activities, eateries and the retail trade. On the other hand, the project was tasked with improving the feel of the surrounding area that's characterised by large buildings cut off from the surrounding streets and roads.
The location of the site was the biggest challenge facing the architects at Archimatika. It is in the southern part of central Kiev, hemmed in by three busy main roads, although the Dovzhenko Center National Film Archive building and an elongated apartment block do shield the site from the highways on two sides.
With Smart Plaza, the architects have created a multistorey design built on top of a base building and incorporating the full range of public functions such as retail outlets, restaurants and cafés. It takes ownership of the height of the existing residential block, incorporating it visually into the new building. The design features three tall residential towers rising from the roof of the base, which lies at street level. The remaining roof surface is devoted to leisure activities such as sport courts and a park.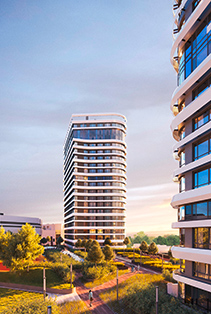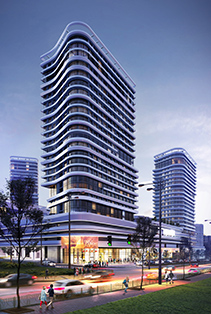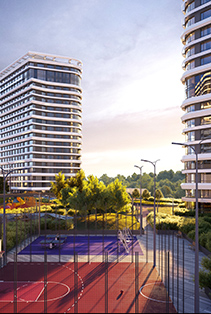 To give this raised building an identity of its own that radiates into the surrounding district, Archimatika made a bold move: the façades of the entire complex feature horizontal white strips which the architects have compared to a thread wrapped around a bobbin. The distinguishing quality of this feature becomes apparent at night when the cars' headlights transform the road into an illuminating strip, the light from which is reflected by the strips on the residential tower blocks rising imposingly above. In addition, these illuminated strips conceal various functions.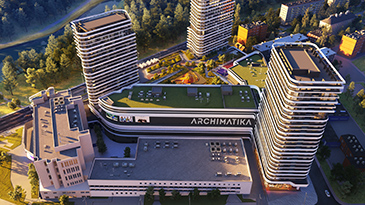 With their design, the creatives at Archimatika have demonstrated how it is possible to give an urban building of this kind a transformative power. The exemplary juxtaposition created with the location, existing buildings and surrounding area was praised by the jury of the World Architecture Festival, who shortlisted the Smart Plaza project in the Commercial Mixed-Use Future Project category presented by by Miele.