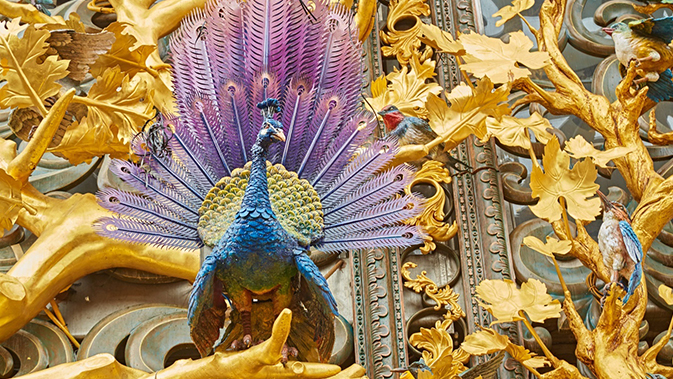 "We are telling unforgettable stories."
Windsor Arch, Macau: Golden Entrée of Studio Festi by Mymoon
Inspired by the lively exuberance of Italian Baroque, the artists of Studio Festi by Mymoon Valerio Festi and Monica Maimone create scenery for outdoor events. Enormous, magical fairytale spectacles were created with oversized swans, planet-like luminous hot-air balloons and dancers. The event architects brought their first project to fruition at Windsor Arch in Macau – and not (just) for that event - a gigantic golden gate: the Gate of Harmony.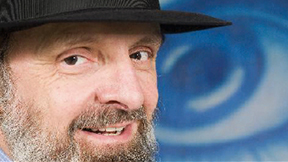 How did the idea for the Gate of Harmony evolve?
Valerio Festi: In 2008 Studio Festi put on a large event in Macau for the arrival of the Olympic flame. I struck up a close friendship with the contractor for the event, Mr. Ng Lap Seng. Mr. Ng was just planning the construction of Windsor Arch and tasked me with designing the gate. We created more than 30 drafts. The idea is to unify various universal symbols on the gate. The bottom part represents the earth and is realised in marble, in the centre of the gate is a tree, which in many mythological stories is the mediator between heaven and earth. The sides show nature and birds, the top part heaven and infinity. The gate measures 11.56 m by 23.5 m and is proportioned according to the golden ratio.
Which techniques have you used?
Valerio Festi: During the process of realisation we combined traditional Italian craftsmen's techniques with modern technology. Cast bronze, gold leaf and wrought iron, but also water jet cutting and 3D printing with aluminium. The design process was very intensive; we created an incredible number of partial models and individual figures of different types. For us it was important to create something enduring.
The Gate of Harmony should represent timelessness and harmony. It is full of meaning: every symbol tells its own story.
The peacock: immortality, spiritual rebirth, beauty and nobility. He is also shown in conjunction with the phoenix, the mythological creature symbolising resurrection.
The horse: nobility and boundless freedom. He unites harmony and strength in mysterious ways - and lets the rider be at one with him.
The vase: abundance and wealth. Symbol for the soul, the inner life of man. Also for motherhood – a warm and protective place.
The masks: change, the seasons. Between reality and fantasy. Symbol for play and jest – but also for the double, who is showing (another) part of his identity.
Porträt Valerio Festi: © Studio Festi by Mymoon