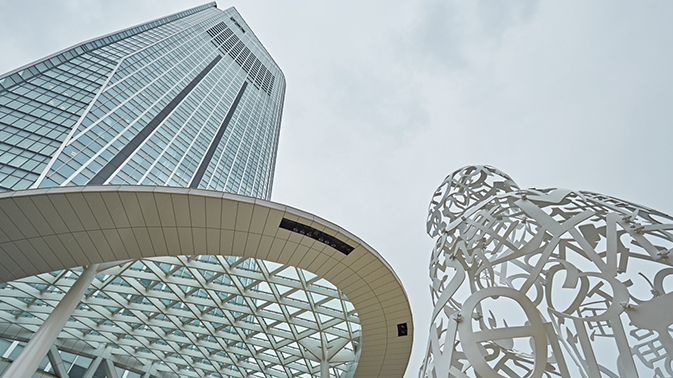 Strong current
Toranomon Hills, Tokyo: Art that inspires
Flowing, flying, falling: in Toranomon Hills works of art predominantly by Asian artists are displayed in various places. The works are all highly dynamic and have the theme of movement in common. This emphasises the mindset of Toranomon Hills: the tower block is to be a trendsetter for Tokyo.
Art and living create something new here: new ideas and innovations. The tower block scores points firstly with modern infrastructure for a dynamic populace. What is more, it's good that "analogue" features are also integrated into the concept of the building. In circulation zones and leisure areas, users pass by large-scale works of art – and are inspired just by walking past them. In this way Toranomon Hills represents modern Japan, the two polar opposites skilfully combined: art, culture and tradition and a clear and direct forward view towards futuristic innovation and technology.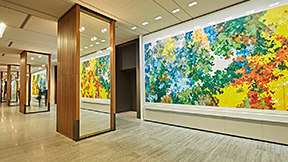 "Floating colours", Satoshi Uchiumi
Across a width of 27 metres, the 5-section oil painting evokes glimmering sunlight, shimmering water and colourful autumn leaves. Inspired by long cycle rides in the countryside, the Japanese artist Satoshi Uchiumi combines dots of colour in his compositions for a natural interpretation of the Japanese seasons.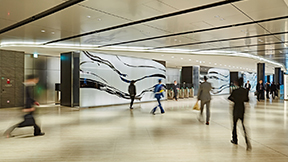 "Untying Space", Sun K. Kwak
Toranomon originally meant "The gate of the tiger" – today it gives its name to the business district of the same name. Inspired by the historical meaning and the river that flowed here, Sun K. Kwak created flowing black lines with black adhesive tape. The architectural space becomes one great movement – representing the mighty currents of people and ideas that shape our times.
"Universe 29", Zhan Wang
Experimenting with gravity: the broken pieces of a boulder dropped from a height of ten metres are the elements of this "mini universe". Each of the 623 pieces was reproduced in stainless steel and mounted on a black steel plate. The pieces which were originally spread out on the ground find a new order in the vertical plane – and evoke the appearance of an explosion in unknown worlds.