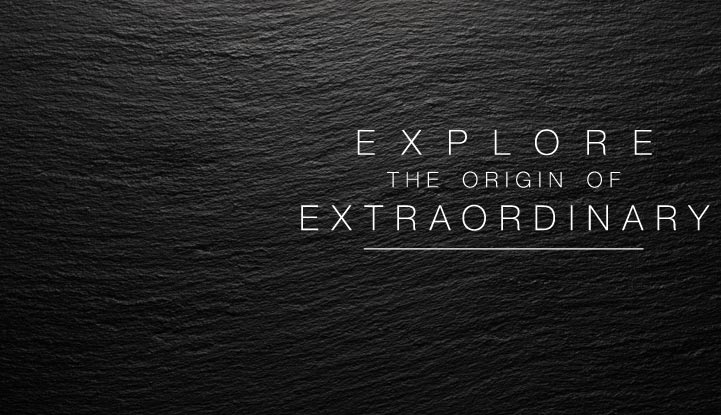 Miele at the EuroCucina 2018
Innovations in Miele's premium brand world
This year at the EuroCucina you can look forward to experiencing innovative products and features from Miele's premium brand world. Find out more about some of the impressive highlights here.
Welcome to Miele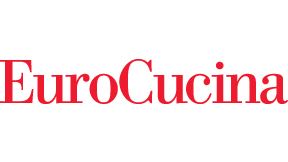 Welcome to Miele
We are looking forward to welcoming you at the EuroCucina 2018 in Milan at our booth B11/C26 in hall 11.
Fiera Milano – Rho
17.-22. April 2018
Opening times of the EuroCucina:
09.30 – 18.30 h
For end users Saturday 21st and Sunday 22nd of April 2018"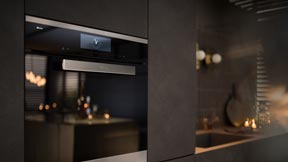 Revolutionary excellence: The new Dialog oven from Miele
As a very special highlight we will be presenting the Miele Dialog oven this year. This cooking appliance sets new standards and revolutionises cooking. Allow us to surprise you at the Miele booth.
More information on the Dialog oven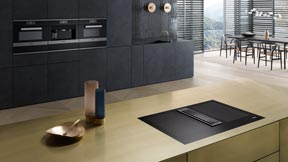 Miele premium brand world
This year at the EuroCucina you can look forward to experiencing innovative products and features from Miele's premium brand world. Stay curious as to the extraordinary highlights that are peerless in terms of technology and finesse. Experience some of the impressive highlights from the vast Miele brand world.
Go to the Miele trade fair highlights
Miele trade fair highlights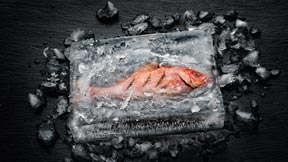 Miele Dialog oven
Cooking fish in a block of ice or a fillet of veal in a jacket of beeswax? Without the ice or the wax melting? Experience a new way of cooking with Miele's Dialog oven. Miele is staging its world premiere to an international audience at the EuroCucina. The preparation of delicacies will be demonstrated live in a show kitchen. Allow us to surprise you!
More information on the Dialog oven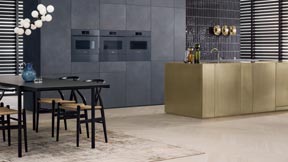 Design for the best quality of life
We believe that design encompasses the outer appearance of an object as well as the experience of using it. This is the principle on which our built-in kitchen appliances are based. Our designers and engineers are continually gathering knowledge and inspiration from the international markets in which Miele operates – and their know-how puts them at the top of their class.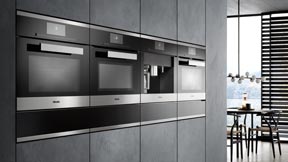 PureLine
Space for the essentials. PureLine is understated. It can easily be integrated as a design element into a modern kitchen where the focus is on a minimalist range of materials. The high proportion of glass in the PureLine design creates a calm aesthetic. Horizontal stainless steel elements and an eye-catching handle which almost appears to be floating in front of jet black glass elements are characteristic features of these appliances. Furthermore, PureLine appliances with all-glass fronts and eye-catching handles are a perfect match for modern kitchens with an unobtrusive style.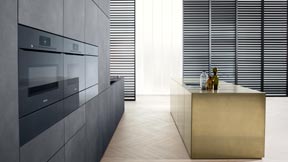 ArtLine
Minimalism at its best. Innovative technology, exclusive and timeless – this is what drives Miele's product design and development teams. The Miele ArtLine design series has taken PureLine to the next level with this latest generation of built-in appliances, following the same guiding principle. The pure elegance of the handle-less fronts is an interior designer's dream in a class of its own. See for yourself the first truly handleless kitchen. These handleless appliances are available in graphite grey, obsidian black and brilliant white. That's Miele. This is Immer besser.
Find out more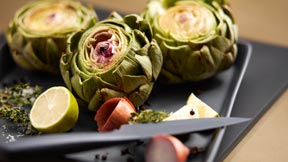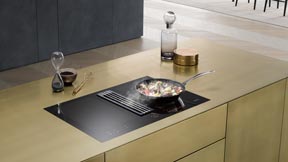 TwoInOne – a strong team.
Tried-and-tested Miele induction technology with flexible PowerFlex cooking zones combined with an efficient extractor. That's TwoInOne from Miele. This approach guarantees planning freedom as the range will contain both a flush version and a model with a stainless-steel frame.
More on TwoInOne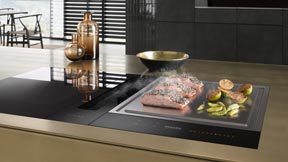 SmartLine – Individual and unlimited combination options.
Uncompromisingly elegant, versatile and multi-faceted – this is how the new SmartLine units from Miele present themselves. Customers can choose any combination of induction hob, Teppan Yaki, induction wok and countertop extractor. As an ensemble, they form a cooking centre with a puristic appeal which melts the boundaries between kitchen and living space.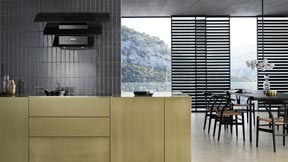 Cooker hoods
An eye-catcher in your kitchen. Miele now has new wall and island hobs. These cooker hoods boast clean, strong lines and perfect workmanship. Whether installed on a wall or over an island, these cooker hoods always attract attention.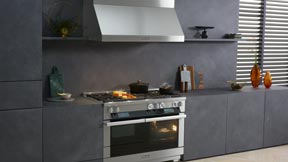 American Style Cooking
Compact to offer all options. When we developed Miele appliances for the American market, we had to start thinking in different dimensions. Designing this Miele built-in and Range appliance series required courage to exceed all expectations. With these appliances, the dynamic American style of cooking becomes tangible.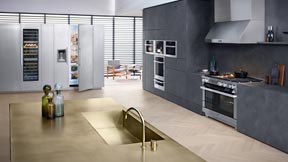 MasterCool
Designed to provide sufficient room. Plenty of space, a perfect overview and storage zones that can be individually controlled offer outstanding convenience as well as perfect storage conditions for valuable food. The MasterCool appliances are flagship refrigerators and freezers with a unique design that are true eye-catchers in your kitchen. Precision on the inside, designed with passion: always a perfect combination with Miele Ranges.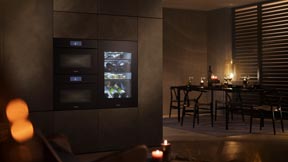 Wine units
Enjoying a good wine is to this day a true revelation for wine connoisseurs. Miele wine conditioning units meet all the requirements that guarantee enjoyment: elegant design combined with high-quality functions and intuitive operation. With a wine unit from Miele, wine can be conditioned to allow the development of its full taste. Even wine bottles of different shapes and sizes can be stored securely.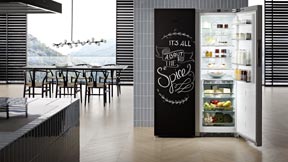 Refrigerators and freezers
Perfect climate for fresh ideas. With their handle-free, linear design, Miele freestanding refrigeration appliances integrate perfectly into all kinds of kitchen environments. The new side-by-side premium appliances provide great flexibility and storage conditions for food.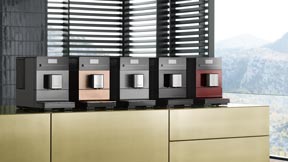 Countertop coffee machines
For all the senses. From selecting the perfect bean type to convenient machine maintenance: Miele's comprehensive coffee know-how ensures pure coffee enjoyment - cup for cup. Discover Miele's countertop coffee machines with their innovative design.
More on countertop coffee machines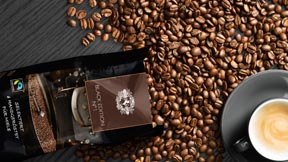 Miele coffee
It's the bean that counts. Pure coffee enjoyment starts with the most important ingredient - the coffee bean. Black Edition No°1 consists of four types of single-origin Arabica beans from South America that are traditionally hand-harvested, extremely gently roasted, and perfectly match Miele coffee machines. Miele's own coffee with Fairtrade certificate, Organic (Bio) certificate and an inimitable aroma.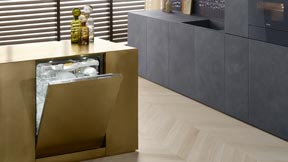 Miele dishwashers - spotless brilliance.
Miele's Generation 6000 EcoFlex dishwashers make crockery, glasses, pots and pans sparkle: through best cleaning results, many clever details that make everyday work easier. The dishwashing programme QuickPowerWash, for example, achieves an A rating for best cleaning performance in less than one hour. And for Miele it is an absolute given: low consumption values protect the environment.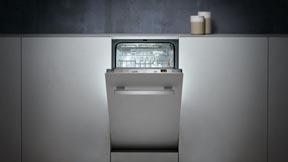 The Slimline dishwashers from Miele
Our 45 cm dishwashers are on a par with their bigger brothers: with cutlery tray, low energy consumption and a highly convenient basket design. Ideal for households with less people and space.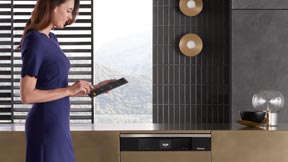 Miele@home
At home or on the go - you stay in control of your domestic appliances. Networking your appliances opens up more options that give your dynamic life more convenience, quality and safety. With the Miele@mobile app you can access inspiring recipes, receive information from Alexa when your laundry is done and order detergent with a touch of a button. Experience Miele domestic appliance networking live at the EuroCucina in Milan.
Further information