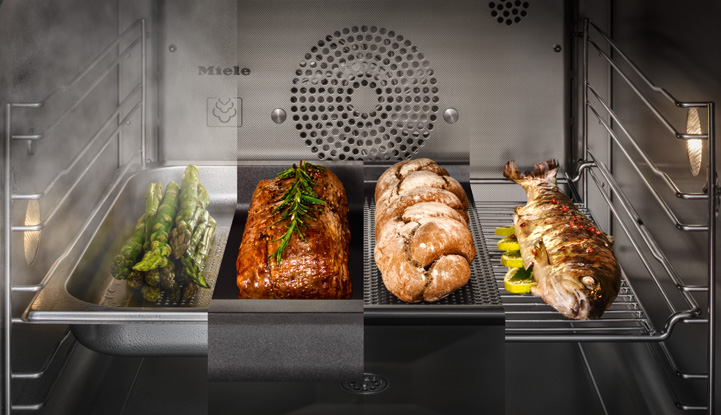 The Miele Steam Combination Oven
Steaming, roasting, baking, amazing.
The Miele steam combination oven fulfils all your cooking requirements.
It really shows its versatility with 'Combi cooking' – a combination of moist and hot air ensuring outstanding baking and roasting results.
Read more about the Highlights below.
Highlights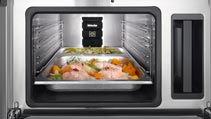 Large oven cabinet and maximum tray size
The new oven cabinet of the Miele steam ovens with MultiSteam allows you to place a GN 1/2 size container and a GN 1/3 size container one behind the other on each of the three levels. No competitor offers appliances with so much space!
Unlocks the magic of combination cooking: For perfect roasting and baking every time.
Combination Cooking gives you the optimal mix of moisture and dry heat to achieve the perfect cooking environment for almost any imaginable recipe–from freshly baked breads to mouth-watering roasts. Freely select between a combination of steam and another baking or roasting function. You can also adjust and change the temperature (40°C to 225°C) and adjust the moisture content at 1% intervals (0% to 100%) as many as six times in rapid succession. It's one more way Miele gives you maximum flexibility–for the best baking and roasting results.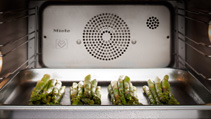 Releases food's intense, natural flavours: MultiSteam cooking technology.
MultiSteam is designed to enhance your food's rich, natural flavours and colours. It also preserves all of the natural vitamins while avoiding oxidation. The multilevel steam inlet ports cook food quickly and evenly with even temperatures throughout the oven's cavity. The result: delicious, healthy meals.
Keeps you in perfect control: The Food Probe.
Cook meat, fish, and poultry separately and with precise temperature control: the Food Probe lets you select your preferred core temperature for perfect, effortless results. It shows you the remaining cooking time, which frees you up from constantly having to monitor your dish while it cooks.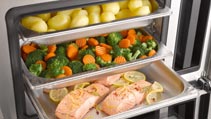 Automatic menu cooking
With automatic menu cooking you can combine up to three automatic programmes for different dishes. Temperature, cooking time and sequence in which dishes are added are automatically controlled. The appliance tells you when to put each item in the oven so that everything is ready at the same time. In this way you can cook a whole meal without stress and with perfect timing.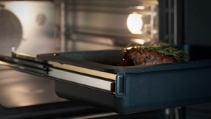 Fully telescopic FlexiClip runners:
The fully telescopic FlexiClip runners with PerfectClean finish are designed to fit easily onto the side racks, allowing you to use every level of your oven for added flexibility. You can pull hot dishes away from the heat safely and conveniently before removing them from the oven.