Environmental management
Become an industry leader in environmental protection
Conserve valuable resources, save energy, reduce emissions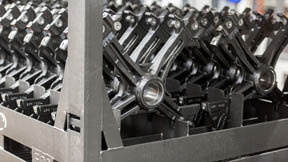 Safeguard long-term availability
To manufacture our appliances, we rely on natural resources, materials and components. As global demand for natural materials is growing and supplies are diminishing, long-term supply availability is becoming increasingly important for us. In the future, too, Miele will rely on the necessary natural resources, materials and components being supplied to its plants at the right time, in the right quantity.
Production: conserve valuable resources
Using resources more efficiently means protecting the environment and ensuring that valuable natural resources remain available to us for generations to come. For this reason, we check the use of materials in production, and use a high proportion of recyclable materials and secondary raw materials, which are raw materials that have already undergone a recycling process. A good example is stainless steel, which can usually be recycled. We also welcome efforts from our suppliers to use the highest possible proportion of recycled steel in our components. In addition, we are monitoring developments in the recycled plastics market, and are already making use of this material to a limited extent. However, not every material that can be easily recycled satisfies our requirements in relation to quality, durability and performance. For this reason, we weight up the advantages and disadvantages in order to maximise resource efficiency without compromising on quality.
Contact
If you are a customer and you have questions about Miele products or require advice from our Customer Service Team?
Go to contact form
For press enquiries, or if you have any questions relating to the content of this site, please contact the Sustainability Communications Team in the Miele Press and Public Relations Office.
Contact:
Ursula Wilms

Press and Public Relations
Miele & Cie. KG
Carl-Miele-Straße 29
D-33332 Gütersloh
Telephone: +49 (0)5241/89-1958
Fax: +49 (0)5241/89-781958
ursula.wilms@miele.de