Holistic approach
Constantly improving sustainability performance
Lower consumption combined with improved performance and the best results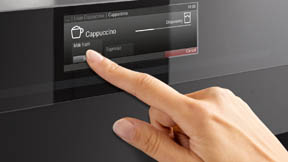 Universal design for convenient operation
Convenience is an important factor in the development of domestic appliances. Appliances must be designed so that operation is straightforward and intuitive for everyone – from teenagers to the elderly. As a consequence of the demographic shift taking place in our society, the average age in the population is increasing. This change is something we take into account in our product development processes. We ensure that our appliances are easy to use, regardless of the age or physical capabilities of the user. The technical term for this is 'universal design' or 'design for all'.
Barrier-free use for all
With our 'universal design', we want to ensure that our products are accessible to all users, without excluding or discriminating against any group. In practice, this might mean that functions and programmes are displayed in large text on the panel, or that our appliances use easily recognisable symbols to convey information. Our appliances can even be operated by the blind: For many years, we have offered self-adhesive braille sheets that can be affixed to appliance panels. We regularly update these sheets for suitable models in new generations of appliances.
Networking for greater convenience, safety and efficiency
We are an industry pioneer in networking of domestic appliances. Under the umbrella term of Miele@home, we offer a range of applications designed to increase convenience, safety and energy efficiency. We currently have around 400 network-enabled domestic appliances in our range. Via the free Miele 'Miele@mobile' app, users can control appliances such as washing machines and dishwashers from their smartphones. The app also provides Miele customers with direct, exclusive access to the most extensive and convenient recipe and cookery video app in the industry. Furthermore, we are part of the 'KogniHome' research project, which focuses on technical assistance systems that allow people to live independently and autonomously in their own familiar environment for as long as possible.
Comprehensive security features
With Miele@home, the secure handling of customer data is of the utmost importance. For this reason, we have integrated a number of security features into our appliances. Our appliances are not 'open' to all network communication; they communicate – via internet – with a server in Germany, which is only accessible to Miele applications. When we transfer data over the internet, we use the same technology that is found in online banking applications. Together with a team of experts, we continually work to ensure that our high security standards are maintained or even increased.
Contact
If you are a customer and you have questions about Miele products or require advice from our Customer Service Team?
Go to contact form
For press enquiries, or if you have any questions relating to the content of this site, please contact the Sustainability Communications Team in the Miele Press and Public Relations Office.
Contact:
Ursula Wilms

Press and Public Relations
Miele & Cie. KG
Carl-Miele-Straße 29
D-33332 Gütersloh
Telephone: +49 (0)5241/89-1958
Fax: +49 (0)5241/89-781958
ursula.wilms@miele.de