Holistic approach
Constantly improving sustainability performance
Lower consumption combined with improved performance and the best results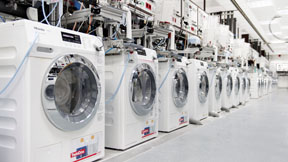 Our product philosophy
When we develop our durable and efficient products, we think of everything: Our appliances must be useful to our customers, but their impact on the environment must also be minimised. Our aim is to achieve the right balance between quality of results, operating convenience and environmental compatibility. In line with our motto – 'Immer besser', or 'Forever better' – we always strive to find the best possible solution for our customers and for the environment.
Durable appliances: a choice that makes environmental sense
Miele is the only manufacturer in the industry to test its products to last up to 20 years. For a washing machine, this service life corresponds to approximately 10,000 operating hours. But does it make environmental sense to keep using an appliance for so long? After all, modern appliances often consume much less energy than their predecessors from 20 years ago. The results of a 2014 study conducted by the Institute for Applied Ecology on behalf of Miele showed that it is better for the environment to use an appliance that was the most efficient in its class at the time of purchase for as long as possible. Only in the case of very old tumble dryers and refrigerators/freezers may it be worthwhile to replace the appliances before they reach the end of their service life, as huge increases in efficiency have been achieved in these product groups in recent years.
Considerations on product longevity and spare parts strategies relating to Miele domestic appliances (German, English summary included)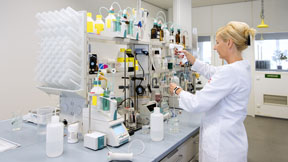 Environmentally compatible and innovative
Even in the very early stages of product development, we work to maximise environmental compatibility. We use an environmental checklist to ensure that all legal requirements and our strict internal environmental standards are fulfilled. We also develop new, more sustainable business models. One example is our automatic detergent dispensing system TwinDos, which reduces detergent consumption by up to 30 percent. We use customer surveys and user tests to ensure that our new developments meet the needs of our customers.
The highest standards of safety
The safety of our products is our top priority at Miele. It helps that we produce many of our components ourselves: Our in-house production depth – the proportion of components we produce ourselves – is as high as 50 percent for some of our products. This approach means that we retain greater control over the design and quality of the various components we use. Independent bodies such as VDE, DEKRA, or TÜV, test our products for compliance with safety requirements. In addition to laws and standards, in-house Miele standards apply in all areas, and in some cases set even higher requirements with respect to product safety. Miele Professional appliances offer special programmes – with features such as high rinse temperatures and long temperature holding times – to suit the specific hygiene requirements of establishments such as retirement homes, hospitals, or hotels. As a certified medical product manufacturer, Miele meets all statutory hygiene standards.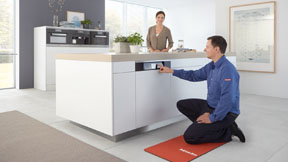 Repair-friendly appliances, outstanding customer service
Miele domestic appliances are renowned for their reliability. Nevertheless, over the course of an appliance life, faults may occur that require the assistance of the Customer Service Team. In order to keep costs low in such cases, the appliances are designed to be 'repair-friendly'. Our service technicians undergo rigorous training and complete their service calls in fully equipped service vans. In the 2015 'Kundenmonitor Deutschland' benchmarking study, Miele Customer Service was named the best in the industry for the 19th time.
Contact
If you are a customer and you have questions about Miele products or require advice from our Customer Service Team?
Go to contact form
For press enquiries, or if you have any questions relating to the content of this site, please contact the Sustainability Communications Team in the Miele Press and Public Relations Office.
Contact:
Ursula Wilms

Press and Public Relations
Miele & Cie. KG
Carl-Miele-Straße 29
D-33332 Gütersloh
Telephone: +49 (0)5241/89-1958
Fax: +49 (0)5241/89-781958
ursula.wilms@miele.de