Our strategy
Sustainability – forever better
The foundations for sustainable development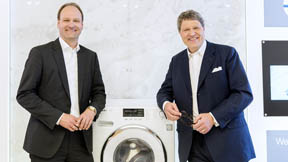 A tradition of sustainability
Miele has been an independent family-owned company since its founding in 1899, and is equally committed to its owners, employees, customers, suppliers, the environment and society. Although sustainability was not yet an established concept back then, our company founders were working sustainably even at the turn of the 20th century: They developed and produced long-lasting products that were more robust and reliable than those manufactured by competitors, looked after their employees, and cared about the people in their region. With the fourth generation now at the helm, the company continues to follow these same principles.
Our vision: become the most sustainable company in the industry
Today, we have a sustainability strategy that sets out our principles. Although this strategy is just a few years old, the core elements of it are principles that we have always applied in our business. First and foremost, it's a strategy based on values: integrity, a sense of responsibility towards people and the environment, continuity and, last but not least, a sense of quality. In our sustainability strategy, we have set out our vision of being the most sustainable company in the industry. We will be confronted with many challenges on the path to achieving this goal – be it climate change, resource scarcity, demographic change, or a shortage of skilled employees. We can only overcome these challenges if we view sustainability not as an isolated activity in itself, but as an integral, holistic part of all areas of our company.
Contact
If you are a customer and you have questions about Miele products or require advice from our Customer Service Team?
Go to contact form
For press enquiries, or if you have any questions relating to the content of this site, please contact the Sustainability Communications Team in the Miele Press and Public Relations Office.
Contact:
Ursula Wilms

Press and Public Relations
Miele & Cie. KG
Carl-Miele-Straße 29
D-33332 Gütersloh
Telephone: +49 (0)5241/89-1958
Fax: +49 (0)5241/89-781958
ursula.wilms@miele.de