Our strategy
Sustainability – forever better
The foundations for sustainable development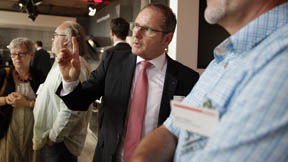 In partnership with our stakeholders
The success and reputation of our company is strongly influenced by the expectations, needs and decisions of our stakeholders. We engage in an ongoing dialogue with our employees, customers, business partners, associations and interest groups, as well as with scientists and researchers, the general public, policy makers and legislators. This is the only way that we can reflect their needs and wishes in our actions.
Regular customer surveys
Miele market research has been conducting customer surveys in Germany and many other countries for over 30 years. As a result, we receive more than 25,000 consumer opinions every year from across the globe. In addition to quantitative surveys, these also include numerous qualitative studies such as in-home interviews and work with focus groups. This research provides us with useful information on market perception, purchasing decisions and user behaviour. In 2014, we conducted a survey in which we asked our stakeholders to rate our sustainability performance. The public online survey was completed by 570 customers whose ages ranged from 18 to over 80. Of these participants, 99 percent reported that they were owners of a Miele appliance at the time of the survey. Over 90 percent of the respondents rated our sustainability performance as either 'high' or 'very high'. 88 percent of all respondents ranked Miele as the leading household appliance manufacturer in terms of sustainability.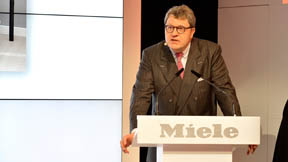 Cooperation with committees and associations
We contribute our expertise to national and international committees, commissions and associations. Within these organisations, we advocate central corporate values such as quality, durability and resource and energy efficiency. One of the two Executive Directors – Dr Markus Miele or Dr Reinhard Zinkann – is also represented on each of the boards of the European Committee of Domestic Equipment Manufacturers (APPLiA, formerly CECED), the German Central Association of the Electrical and Electronics Industry (ZVEI), the German Brands Association, the Stifterverband für die Deutsche Wissenschaft (Donors' association for the promotion of humanities and sciences) and – at a regional level – the Chamber of Commerce and Industry and the trade association.
A transparent dialogue with policy makers
As a household appliance manufacturer, we are also influenced by political decisions and legal requirements. Directives that affect us – for example on energy efficiency classes or ecodesign – are conceived, to a large extent, at European level. Since the end of 2015, we have been registered in the public transparency register for interest groups in Brussels. This register is intended to provide an insight into which representatives of the EU commissions, EU Parliament, and the European Council are in direct contact with Miele. We regularly welcome regional, national, or European politicians on visits to our sites. We hosted a visit from Dr Barbara Hendricks, the Federal Minister for the Environment, Nature Conservation and Nuclear Safety, and Klaus Müller, Executive Director of The Federation of German Consumer Organisations, in August 2015. The topics of service life and wear (obsolescence), as well as the Ecodesign guideline were the focus of their visit. Günther Oettinger, European Commissioner for the Digital Economy and Society portfolio, visited us at the Trade Show for Consumer Electronics & Home Appliances (IFA) in Berlin in September 2015, and at the end of 2015 at the company's location in Gütersloh. The opportunities and challenges of the digital transformation made up a large part of this discussion.
Miele Memberships
Contact
If you are a customer and you have questions about Miele products or require advice from our Customer Service Team?
Go to contact form
For press enquiries, or if you have any questions relating to the content of this site, please contact the Sustainability Communications Team in the Miele Press and Public Relations Office.
Contact:
Ursula Wilms

Press and Public Relations
Miele & Cie. KG
Carl-Miele-Straße 29
D-33332 Gütersloh
Telephone: +49 (0)5241/89-1958
Fax: +49 (0)5241/89-781958
ursula.wilms@miele.de