People at Miele
A reliable partner
For employees, society, suppliers and dealers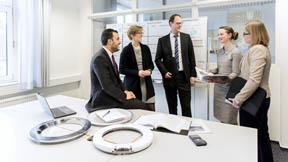 A collaborative partnership
We set high requirements for our suppliers in terms of quality and performance. We also expect them to meet social and environmental standards. In return, Miele understands that these requirements must be economically viable for the suppliers. We aim to establish long-term business relationships characterised by fairness, trust and collaborative partnership. This collaboration often starts in the product development phase, when we start to draw on the specialist knowledge of our suppliers in our processes.
Compliance with environmental and social standards
We expect our direct suppliers to comply with environmental and social standards. We also ask them to require the same level of compliance from their suppliers. We place particular emphasis on social aspects: We expect all of our suppliers to comply with a number of social criteria that are based on the core requirements of SA 8000. To ensure that environmental standards are met, our supplier assessment considers whether or not a supplier has set up an environmental management system. Our assessment also looks at whether the supplier uses resources in a sustainable manner and complies with environment and climate protection laws.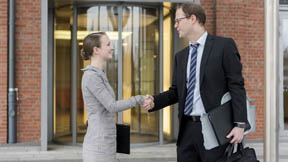 Regular audits
When we audit our suppliers, we look not only at aspects such as quality, supply availability and price, but also at compliance with our sustainability criteria. Compliance with environmental, social and economic sustainability criteria is monitored and verified several times over the course of a business relationship. At the beginning of the selection process, prospective suppliers must fill in a self-declaration. Random process audits are carried out for all suppliers who provide materials for a product series.
Contact
If you are a customer and you have questions about Miele products or require advice from our Customer Service Team?
Go to contact form
For press enquiries, or if you have any questions relating to the content of this site, please contact the Sustainability Communications Team in the Miele Press and Public Relations Office.
Contact:
Ursula Wilms

Press and Public Relations
Miele & Cie. KG
Carl-Miele-Straße 29
D-33332 Gütersloh
Telephone: +49 (0)5241/89-1958
Fax: +49 (0)5241/89-781958
ursula.wilms@miele.de