People at Miele
A reliable partner
For employees, society, suppliers and dealers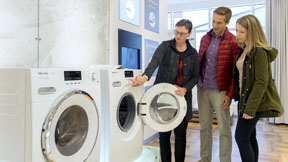 Long-term partnerships
Since our company was founded in 1899, our aim has been to deliver on our promise of being 'Immer besser', or 'Forever better' – and high-quality products are an essential component of this vision. It is also essential that our appliances are presented in stores in a way that matches our brand image, and sold with competent advice and high-level service. With this in mind, we strive to establish long-term partnerships with dealers who focus on high-quality advice and service. In return, we support our sales partners in various ways, including the provision of advice on business structure and through the delivery of training.
High quality standards – even online
Our dealers are committed to upholding our high standards, particularly with respect to the range, product availability, advice and service they offer. In recent years, the rise of the internet has significantly changed how customers purchase goods, including domestic appliances. In online environments, too, we strive for quality and close collaboration: The web shops of physical stores and online distributors can obtain certification as a Miele sales partner. These dealers must also meet a set of standards developed specifically for the sales channel internet.
Contact
If you are a customer and you have questions about Miele products or require advice from our Customer Service Team?
Go to contact form
For press enquiries, or if you have any questions relating to the content of this site, please contact the Sustainability Communications Team in the Miele Press and Public Relations Office.
Contact:
Ursula Wilms

Press and Public Relations
Miele & Cie. KG
Carl-Miele-Straße 29
D-33332 Gütersloh
Telephone: +49 (0)5241/89-1958
Fax: +49 (0)5241/89-781958
ursula.wilms@miele.de