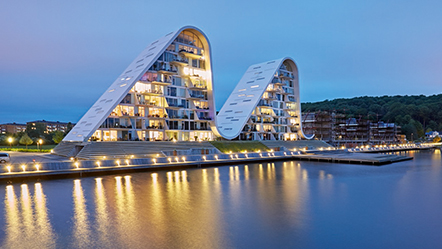 Usage: 115 apartments (After completion of all five blocks)

Architecture: Henning Larsen Architects

Movement and rest seem to determine themselves here: the smooth surface of the fjord water becomes a mirror for the two soft crests of The Wave. As a link between water and land, countryside and town, the building sets an energetic focus – and completely redefines living by the water.
White glazed tiles sparkle on the roof surfaces and give The Wave a maritime character. Not visible from the outside: many of the apartments are spread over two levels.
Overlooking the fjord: full height windows offer magnificent views. There are balconies on both sides of the apartments with views towards the town from the rear-facing ones.
Horizontal ribbon windows frame the fjord landscape and the view of the neighbouring wave. In this way, light and nature become a characteristic part of the interior.
Curved cabinet corners continue the wave motif as a skilfully crafted detail in the kitchen.