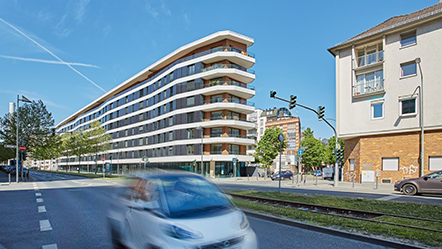 Usage: 75 apartments, Service facilities

Architecture: HHS Planer + Architekten AG

By 2050 electricity from renewable resources is to provide 80% of Germany's requirements. Wind energy cannot be created efficiently in the inner cities. However, there is lots of room for solar panels on the roof and all façade surfaces of the buildings and tower blocks. The Aktiv-Stadthaus (townhouse) in Frankfurt shows how change can succeed: the building produces all the energy required by the occupants itself, via a photovoltaic system.
Not only are the dimensions of the Aktiv-Stadthauses extreme, at 150 metres long and 10 metres deep. The energy concept is also unique. The combination of a highly insulated building envelope and active energy production makes the Aktiv-Stadthaus a plus-energy building. This makes it one of the most innovative multi-storey residential buildings in Europe. 1,000 highly efficient photovoltaic modules on the roof and 330 modules on the façade produce electricity. The building produces all the electricity that the occupants require for heating, showers, household needs, lift and driving.
The domestic appliances in the kitchen such as washing machine and tumble dryer are included in the rental. These appliances have been integrated into the building's control system in five test apartments. The Aktiv-Stadthaus also acts as a research project. Electric cars are available in the basement for car sharing. The cars are charged up with electricity produced by the building itself.