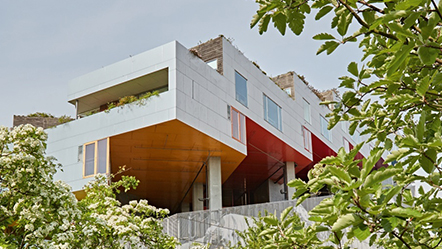 Usage: 80 apartments, Garage

Architecture: Bjarke Ingels Group (BIG)

Urban density is made into a plus point by the intelligent concept of the Mountain Dwellings: the bottom two thirds of the building volume is a garage, on top of which 80 terrace apartments are situated. Perforated aluminium plates depict Mount Everest on the north and west façades – and at the same time bring light and air to the parking decks.
Living in the town becomes living in the country here: the terraced arrangement creates a relaxed ambience and gives room for spacious roof gardens which display a different character depending on the season. A self-sufficient idyll: a comprehensive watering system cares for the vegetation.
Enjoy relaxed living in the suburbs as well as the proximity to the lively centre of Copenhagen. The new Ørestad district is being developed as a planned town – modern accommodation for 20,000 people is being planned and built here.