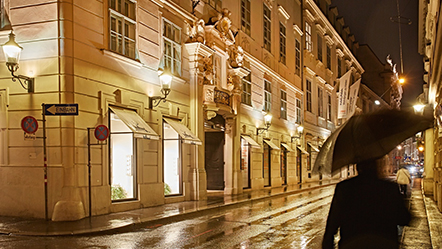 Usage: 22 apartments

Architecture: Mittermair Architekten

In – and around – one of the oldest streets in Vienna, the Herrengasse, noble families were immortalised by their stately residences. A timely and successful metamorphosis has taken place: the renovation of both Palais Trauttmansdorff and Batthyány-Strattmann has created extraordinary dwellings in the very heart of Vienna. The Herrengasse was originally used for military purposes. Even back in medieval times the houses were sought after by the nobility.
Kitchens are simply freestanding as objects in the historic surroundings. Refrigerator, oven and steam oven are neatly located at the narrow ends of the kitchen block.
The state rooms of the Palais Trauttmansdorff are almost entirely preserved in their original state. The guidelines for preservation of historical monuments have been followed to the letter during the sensitive restoration procedure.