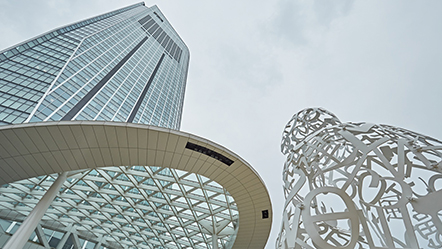 Usage: Commercial, offices, apartments, hotel

Architecture: Nihon Sekkei

To optically break up the large volume of the tower block, the architects gave Toranomon Hills a characteristic silhouette: with its diagonal-cut base the block has become a visible landmark far and wide. Benchmarks were even set underground: the tunnel leading to a new ring road runs through the basement. An ingenious construction combines arterial roads and architecture – leaving space above ground for coherent urban space and green areas.
A three-storey green atrium makes the shop and restaurant area a high-quality leisure area. Works of art endow the publically accessible areas with character.
The Toranomon mascot pops up everywhere in the building. The "Robot cat" represents the innovative future of Tokyo, for which Toranomon Hills aspires to be the trendsetter.
Luxurious apartments are located over nine storeys in the upper third of the tower block. The other two thirds of the Toranomon Hills are a lively mixture of offices, shops and restaurants, a forum and a boutique hotel.