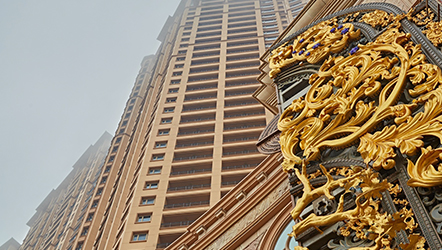 Usage: Apartments, Service and leisure facilities

Architecture: MAP (Concept)

Windsor Arch, which comprises 1,512 apartments, takes inspiration from the United Kingdom for more than just its name; the exterior also invokes the classical residences of Europe. In this sense, the colour palette is authentic – the elegant façade of the 6-storey plinth building is cladded with pale sandstone. Even the dimensions are majestic; the linear-structured complex extends for 500 metres.
A luxurious marble floor and majestic pillars create a magnificent entrance hall in each of the ten apartment towers. From here the towers of 47 floors can be accessed.
Precious materials and select details make majestic apartments of the interior rooms. The Gate of Harmony designed by the Italian architect Valerio Festi forms the main entrance to the complex.
The luxurious interior design transposes the splendour of European culture from bygone centuries into today's world – including the kitchen appliances. Miele has the perfect solution for every kitchen environment. A variety of appliance colours or a decorative handle collection to enhance the appliance offer different design options.