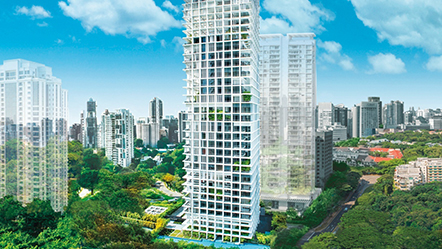 Usage: 43 Apartments, Service and leisure facilities

Architecture: Jean Nouvel

Luxuriously verdant Singapore is resplendently tropical – 50 years ago work began to turn the metropolis into a garden city. With his design for Le Nouvel Ardmore, celebrity architect Jean Nouvel raises the dialogue between nature and architecture to a new level: expansive areas of green are also integrated into the vertical lines of the building so the occupants come into contact with nature on every floor.
The pure, white design of the building is continued inside; discreet and elegant kitchens offer ample space for individual needs. A 90 cm oven with 5-line TFT display and two gas hobs are the perfect solution when catering for a large number of guests.