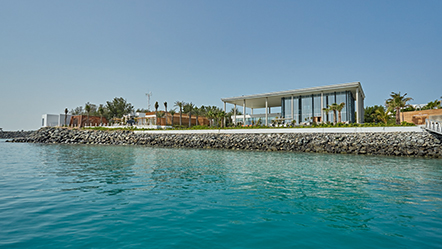 Usage: 31 beach villas, 36 waterside villas, Service and leisure facilities

Architecture: Dror

This is living on the coast – or right at the water's edge. You can gaze into the blue from almost every building on Nurai Island. The waterside villas, which can only be reached by boat, benefit from an extraordinary position. The occupants enjoy a private beach and an uninterrupted view to the horizon. However if you wish to escape from the lonely blue, you can soon reach other shores. Nurai island is only a kilometre away from the cultural hotspot of Saadiyat with the Guggenheim Museum and the Louvre Abu Dhabi.
The Name of the Island was inspired by the Arabian word for light (Nur) to convey Nurai Island's speciality: villas suffused with incomparable light effects. Overhead lights and water features integrated into the living room create an interplay of light and reflections which can also be found in Moorish and Arabian architecture.
The villas located on the waterside give you your own piece of paradise. The buildings nestle under a "carpet" of landscaped greenery - and can therefore only be seen from the beach. This offers the occupants a rare level of privacy befitting life on an island.
The colours of the pale sand are echoed in the interior in the natural tones of stone inlays and wooden surfaces. Dark-coloured front panels provide an elegant contrast in the kitchen.