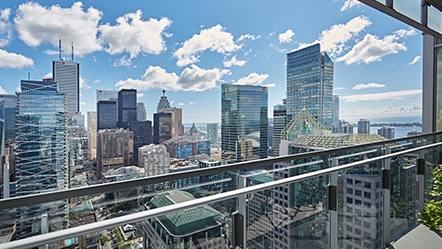 Usage: 458 apartments, Service and leisure facilities

Architecture: Kirkor Architects & Planners

Moving moments, moving pictures and a red carpet: once a year the TIFF Bell Lightbox and the Festival Tower host the Toronto International Film Festival – the most significant event in the film world after Cannes. There is living accommodation on 42 floors in the Festival Tower; in the 5-storey Podium are five cinemas, in which the festival films are presented.
Anyone living in the Festival Tower has access to the Cinema Lounge, which can be booked for parties, and to a small 55-seat cinema for private film viewings. Automatic three-year membership for occupants is included for events that take place in the TIFF Bell Lightbox, as is access to exclusive previews and VIP events during the film festival.