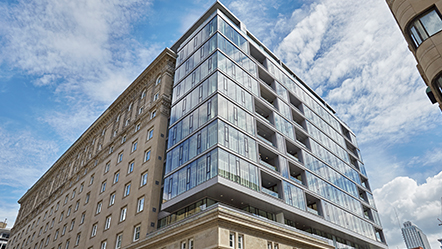 Usage: Hotel

Architecture: Provencher_Roy (renovation)

The "Grande Dame" Ritz-Carlton Montreal has arrived in modern times: an extension now offers space for luxury apartments. This was docked onto the western façade like a glass rucksack - the only option to create more space while at the same time almost completely maintaining the historic façade.
Prominent guests such as Winston Churchill, Elizabeth Taylor, Queen Elizabeth II and the Rolling Stones were welcomed in the imposing reception hall.
A new two-storey structure on the roof creates more space. Restructuring of the interior reduced the original 229 rooms to less than half, to bring the room specifications up to the standards of today's luxury hotel rooms. The 45 "Les Résidences" also offer a permanent home to families. This means that the Ritz Carlton relives a tradition of its finest times, when two thirds of the guests called the building their "home".
When in 1912 César Ritz, father of the legendary Hôtel Ritz in Paris, gave his name to the hotel in Montreal, he also laid down the "Ritz standards": each room was given its own bathroom and there was a kitchen on every floor. This meant that Room Service could serve separate courses individually to the rooms. Today the Ritz-Carlton "Les Résidences", which are permanently occupied, are also equipped to the very highest level: domestic appliances from Miele offer a particular product experience, both in the kitchen and behind the scenes for washing and drying.