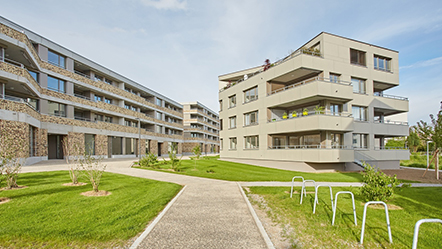 Usage: Apartments, lofts, businesses

Architecture: Daniel Cavelti Architektur AG (Project design lead), ARCHPLAN AG ARCHITEKTEN (Project development, implementation planning)

The diverse and ever-changing landscape of eastern Switzerland can be seen for miles. The neuRing development is situated in Gossau, only kilometres from Lake Constance and Appenzellerland. The new development blends skilfully into its surroundings, with a cladded façade which relates to the colours of the natural environment.
Rows of brick-faced buildings line the plot to the north. This leaves room for light and space behind. Five signature houses are spaced out on the generous green plots of the development. The village stream forms the southern boundary of the area.
Cooking, eating and living can be seamlessly combined here. Expansive, flexible spaces were developed which find continuity in the terraces.